Customer service is part of our corporate culture. We are here to help! Please e-mail your questions, concerns and suggestions.
Clients should only order supplies that will be used exclusively for laboratory testing performed by LabFlorida.
LabFlorida is a Tampa-based small business committed to serving Tampa Bay community. Thank you for your referrals!
We are a patient-centric organization. Let us know how we can help you provide better care for your patients/residents.
Please help us grow. We appreciate your testimonials and referrals to other businesses like yours. We won't let you down!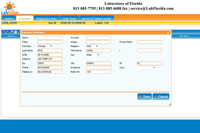 MyLabFlorida.com is a web–based solution for LabFlorida clients who seek an alternative to a comprehensive Electronic Health Record (EHR) system.You can view, print and download lab results for your patients, order new tests, download forms and interact with your lab.
Questions? Call (813) 885-7755, send an e-mail to service@LabFlorida.com or e-mail now.